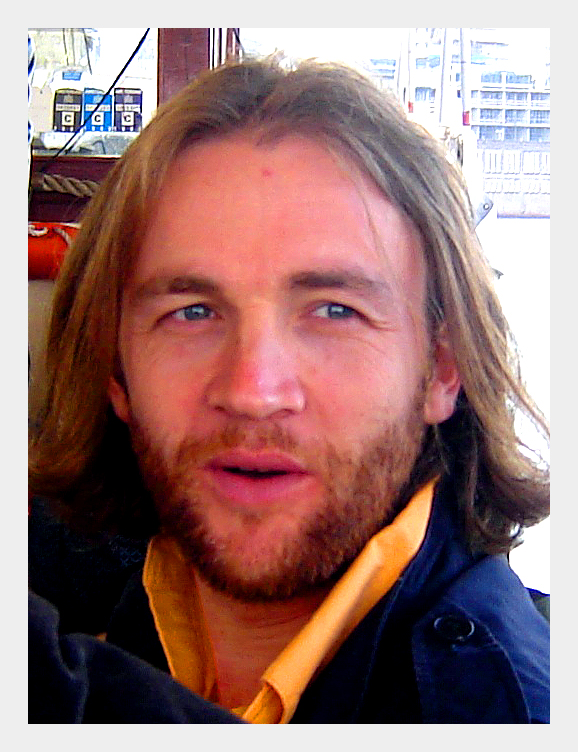 Olivier Klompkes was born in Belgium in 1971, he studied surface pattern at Stockport college of Art in England in 1992. He first specialised in textile design where his work was exhibited at international Art-and Trade Fairs in New York, London, Frankfurt, Brussels and has had various various commissions to produce designs for furnishing fabrics.

Later in 1996 he moved to Spain to broaden his horizons where he concentrated full-time on his painting. He started to exhibit his work with the "Nave Diez" and the "Dean" Art Gallery in Valencia. 

Living again in the UK he showed his work with "The City Gallery", the "Thompson's Gallery" in London, Gordon Hepworth Fine Art" in Exeter, "Watergate street" Gallery in Chester, "Tiblane Gallery" in Manchester, "Aderley Gallery" in Aderley Edge. 

In 1998 he along with his partner created and ran for 13 years an Art and language school in Burgundy France which did put his painting career on hold till 2011/12 when they successfully sold their school.

In 2013 he spends time learning about web designing in order to produce his own site.

In 2014 he starts painting again and produces some new figurative work based on a love theme

In 2015 he discovers the art of flame working/glassblowing spending the next 3 years learning and experimenting with the medium

He will now focus once again on painting using acrylics as his media, and will soon be presenting his new work on this website.
Solo exhibitions
Jan '03 :   BASF, Uccle, Belgium
Dec '02 :   Artist'Echo Gallery , Brussels, Belgium
Dec '02 :   Gallery de la Régence, Brussels, Belgium
Mars '01 : The Bramley School, Tadworth, UK
Dec '01:    Delemont Art Gallery, Delemont, Switzerland
Oct '99 :    The Langley Manor School, Langley, UK
Mars '99 :  Mendoza Art Gallery, Valencia, Spain
Dec '98 :    Nave Diez Gallery, Valencia, Spain
Jan '97 :     Nave Diez Gallery, Valencia, Spain
Sept '95 :   Tips, Brussels, Belgium
Collective exhibitions
Aug '03:   Les vieux abattoirs, Avallon, France
Nov '01:   Waterford Art Gallery, Altringham, UK
June '01:   Gallery Art Present, Paris, France
Oct '99 :   The Hidden Art Gallery, Manchester, UK
Sum '99 :  Nave Diez Gallery, Valencia, Spain
Fev '99 :   Alderley Edge Art Gallery, Alderley Edge, UK
Mars '98 : The Watergate Street Gallery, Chester, UK
Juil 98':     The City Art Gallery, London, UK
Mars 98' : Waterford Art Gallery, Altringham, UK
Oct '97 :    The City Art Fair (With the City Art Gallery), UK
Sept '97 :   The 20th C. British Contempory Art Fair (Royal College of Art), UK
Aug '97 :   The Kensington Art Fair, London (with the Thompson's Gallery), UK
Juil '97 :    Thompson's Gallery, London, UK
Juil '97 :    The City Art Gallery, London, UK
Juin '97 :   Gordon Hepworth Fine Art, Exeter, UK
May '97 :  The Chelsea Art Fair, London (With the City Gallery), UK
Avril '97 : The IAS Gallery, London, UK
Fev '97 :   Artexpo, Jacob Javits Convention Centre, New York, USA
Fev '97 :   Spring Fair, NEC, Birmingham, UK
Eté '96 :    Nave Diez Gallery, Valencia, Spain
Eté '96 :    Dean Gallery, Valencia, Spain
Oct '96 :    Format Art Studios, Macclesfield, UK
Jan '94 :    Stockport College, Stockport, UK
Mai '94 :   Surtex Fair, Jacob Javits Convention Centre, New York, USA
Prix
Live Wire Staffordshire County Finalist 1996, for design work supported and sponsored by Shell UK LTD

First prize awarded by Soundour Fabrics for final major exhibition competition

Second prize awarded by Royal Doulton for ceramic design competition

R.J. Brown top student award, 1994
Collection
'Enchantment of the Seas', Royal Caribbean Cruise Line, Norway
Education
1992 – 94 Stockport College of Higher and Further Education
Higher National Diploma
Surface Pattern Design
(Pass with Distinction)

1989 – 91 INFAC Brussels, Belgium
Certificate of Apprenticeship
Screen-printing – Design
(Pass with Distinction)