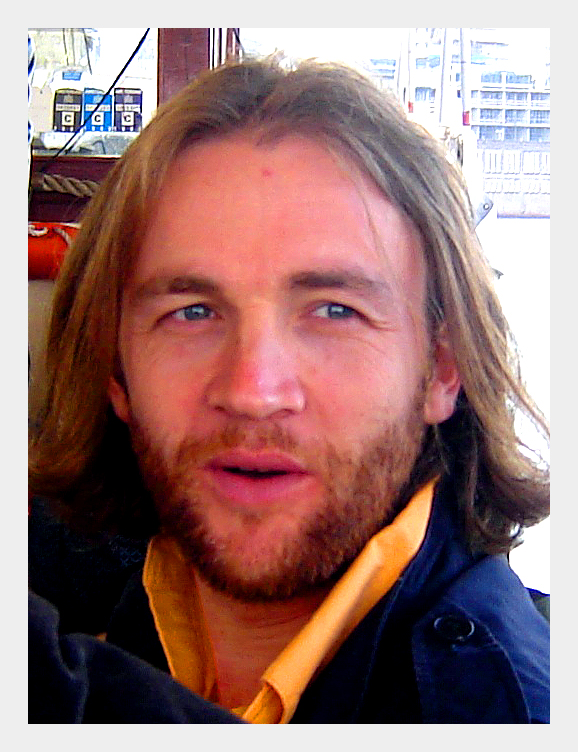 Olivier Klompkes est né à Bruxelles (Belgique) en 1971. Ses études artistiques, il les fit en Grande Bretagne au Stockport College of Art en 1992, où il étudia la technique du dessin industriel sur textile avant de se spécialiser dans la peinture.
Il participa à différentes foires internationales d'art et de commerce (New York, Londres, Francfort, Bruxelles) et y décrocha de nombreux contrats dans le secteur du design pour tissus d'ameublement.
En 1996,  nourrissant d'autres ambitions, il se consacre exclusivement à la peinture et expose ses créations aux galeries "Nave Diez" et "Dean" à Valence(Espagne).
De retour en Grande Bretagne, il expose à Londres avec la collaboration de "The City Gallery", the "Thompson's Gallery", à Exeter avec "Gordon Hepworth Fine Art", à Manchester avec "Tiblane Gallery", à Chester avec "Watergate street Gallery" et à Aderley Edge avec "Aderley Gallery".

En 1998, avec sa compagne,  ils créent, ouvrent, structurent et gèrent une école d'art et de langues en Bourgogne et met temporairement sa propre carrière d'artiste entre parenthèses jusqu'en 2011/2012, années où ils cèdent avec succès leur école et fonds de commerce.
En l'an 2013, il s'initie à la création de sites « Internet » et, fort de cette expérience nouvelle, il monte son propre site, sa vitrine, sur lequel et il proposera ses réalisations picturales avec l'acrylique comme medium.
Expositions personnelles
Jan '03 :   BASF, Uccle, Belgium
Dec '02 :   Artist'Echo Gallery , Brussels, Belgium
Dec '02 :   Gallery de la Régence, Brussels, Belgium
Mars '01 : The Bramley School, Tadworth, UK
Dec '01:    Delemont Art Gallery, Delemont, Switzerland
Oct '99 :    The Langley Manor School, Langley, UK
Mars '99 :  Mendoza Art Gallery, Valencia, Spain
Dec '98 :    Nave Diez Gallery, Valencia, Spain
Jan '97 :     Nave Diez Gallery, Valencia, Spain
Sept '95 :   Tips, Brussels, Belgium
Expositions collectives
Aug '03:   Les vieux abattoirs, Avallon, France
Nov '01:   Waterford Art Gallery, Altringham, UK
June '01:  Gallery Art Present, Paris, France
Oct '99 :   The Hidden Art Gallery, Manchester, UK
Sum '99 :  Nave Diez Gallery, Valencia, Spain
Fev '99 :   Alderley Edge Art Gallery, Alderley Edge, UK
Mars '98 : The Watergate Street Gallery, Chester, UK
Juil 98':    The City Art Gallery, London, UK
Mars 98' : Waterford Art Gallery, Altringham, UK
Oct '97 :    The City Art Fair (With the City Art Gallery), UK
Sept '97 :   The 20th C. British Contempory Art Fair (Royal College of Art), UK
Aug '97 :   The Kensington Art Fair, London (with the Thompson's Gallery), UK
Juil '97 :    Thompson's Gallery, London, UK
Juil '97 :    The City Art Gallery, London, UK
Juin '97 :   Gordon Hepworth Fine Art, Exeter, UK
May '97 :   The Chelsea Art Fair, London (With the City Gallery), UK
Avril '97 : The IAS Gallery, London, UK
Fev '97 :   Artexpo, Jacob Javits Convention Centre, New York, USA
Fev '97 :   Spring Fair, NEC, Birmingham, UK
Eté '96 :    Nave Diez Gallery, Valencia, Spain
Eté '96 :    Dean Gallery, Valencia, Spain
Oct '96 :    Format Art Studios, Macclesfield, UK
Jan '94 :    Stockport College, Stockport, UK
Mai '94 :   Surtex Fair, Jacob Javits Convention Centre, New York, USA
Prix
Finaliste du concours "Live Wire Staffordshire"en 1996, pour ses dessins, sponsorisé par Shell UK LTD

Premier prix décerné par  la société de tissus "Soundour Fabrics" pour le concours d'exposition finale.

Deuxième prix décerné par  la société "Royal Doulton" pour le concours " dessins sur céramiques".

Prix R.J. Brown décerné au meilleur étudiant, 1994
Collection
'Enchantment of the Seas', Royal Caribbean Cruise Line, Norway
Formation
1992 – 94 Stockport College of Higher and Further Education
Higher National Diploma
Surface Pattern Design
(obtenu avec Distinction)

1989 – 91 INFAC Brussels, Belgium
Certificate of Apprenticeship
Screen-printing – Design
(avec Distinction)